Ensure Your Vehicle Is Safe
Without high quality, dependable brakes, you can't trust that your vehicle will stop when you need it to. Hydraulic brakes are common among heavy equipment because of their reliability and strength. If your hydraulic brakes are not working properly, don't hesitate to get in touch with Tri-City Spring Corp. to schedule prompt and effective repairs.
Manage Your Brake Needs Confidently
Hydraulic Brake Products
Brake Hoses

Brake Master Cylinders

Ceramic

Graphite and semi-metallic pads

Clutch master and slave cylinders

Drums and rotors

New and reman calipers

Wheel cylinders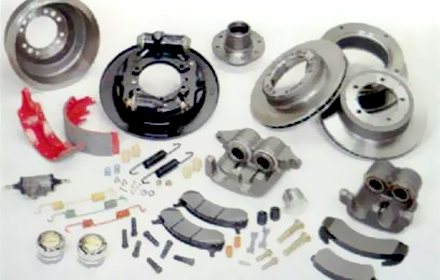 Get The Repairs You Need, When You Need Them
If your brakes aren't working properly, you aren't able to operate your vehicle safely. This means you are losing productivity and time for every minute you spend waiting for your brakes to be repaired. Our knowledgeable, friendly staff delivers unsurpassed customer service for all of your vehicle needs, cars, trucks, vans, buses and trailer.
We are conveniently located
at the corner of Court and Ely streets
Tri-City Spring Corp.
355 Court Street
Binghamton, NY 13904
Business Hours:
Monday through Friday 8am to 4:30pm
We Accept Cash, Visa, MasterCard & Check
Leave A Message
Put your confidence in the over 80 years of experience behind our family-owned and operated business to handle your suspension and brake needs. Schedule an appointment with owners Rick and Lou DeLousia today.